Please leave a testimonial
Rita and Paul said........11th May 2018
We have had a brilliant stay in your lovely cottage, definitely home from home. Everything we needed was here and the bedsa really comfortable so a good nights sleep. The weather has been perfect, much better than expected.
Bamburgh is a gorgeous place and The Grey Goose is perfectly situated. The Castle Inn (The Middle) has been worth visiting. Lovely meals, large portions and friendly staff. It was lovely to meet you both when we arrived. Thank you and hope to come back.
Paul, Rita and Ian (South Yorkshire)
Penny and Kevin said........27th April 2018
Dear Sue and Nigel
What a lovely cottage. we couldn't have wanted for anything. Many thanks for the welcome gifts. what a lovely touch - thank you. We have had a great time exploring the area. so lucky with the weather.
Lovely to meet you both on arrival. we will be back. Thank you.
Penny and Kevin (Glasgow)
Gary, Ian and Kate said........13th November 2017
Hi Nigel and Sue
We absolutely adored your cottage. We're very regular visitors to Bamburgh and our stay here was wonderful. Your decor was outstanding and we were so cosy sitting on your very comfy couch! And as for the main bedroom, we have never had such a comfortable sleep...ever!! Perfectly situated, with a great outlook, we felt so at home here.
It was so lovely meeting you both and you made us feel very welcome. The welcome basket was a delightful bonus, so thank you so much. Cannot recommend this highly enough. It was a lovely surprise and thanks again for a wonderful, welcoming weekend.
Gary, Ian and Kate (Glasgow)
Andrea and Andy said........27th October 2017
What a lovely find, both your cottage and Bamburgh is!
Thank you for the chocs and wine - went down very well.
Your cottage is lovely with losts of really nice little touches not found in many holiday cottages.
The recommendations were great - we loved The Potted Lobster - a fantastic restaurant.
Many thanks
Andrea, Andy, Oli and Jack (Bury, Lancs)
Sarah and Emma said........25th August 2017
What a fantastic week we have had. Beautiful weather and what a fabulous cottage you have. Thank you for the welcome food and especially the wine!! We have loved every minute and thank you again for 'toddler proofing' the cottage too.
Hope to be back soon.
Sarah, Emma, Lexi and Lucas (Washington)
Celia and Ken said........28th July 2017
This lovely property has been an absolute haven for us during a week of 'changeable' weather!
Nevertheless we have thoroughly enjoyed our stay here. On very wet days National Trust properties at Cragside and Wallington came to our rescue. There were still many opportunities to walk the glorious beaches of Bamburgh and Budle Bay, especially in evening sunshine.
The house and its position in Bamburgh are perfect for us.
We shall return.
Celia and Ken (Holmfirth)
Brenda and Mike said........14th July 2017
Well done in creating a wonderful home from home. The house is totally comfortable and there was everything we needed. Many thanks for the food and drink left for our arrival. We have been to Northumberland many times for holidays and have stayed in Bamburgh before. We would not hesitate in booking The Grey Goose again next time.
The Seahouses to Bamburgh beach walk must be as any in the UK. We tried using the 418 and X18 buses and can recommend them for reliability and most of the X18's are double deckers giving better views than from your car.
We have eaten in all Bamburgh restaurants/pubs/hotels and this time found the Lord Crewe our best pick. Would also recommend the Joiner's Arms at Newton - Need to book.

Brenda and Mike (Garstang)
Tracy and Eric said........23rd June 2017
Wow!! We could not have booked a better week to be away - the weather has been absolutely wonderful and we couldn't have booked a better house either! We spent a really hot Saturday on the beach which was heaving with people - there were at least 25 people down there that day!! Can recommend The Castle Inn and the Wyndenwell Café make a lovely coffee and shortbread.
Howick and Alnwick gardens were really lovely and we have enjoyed revisiting Warkworth Castle and Holy Island. We love Bamburgh and the surrounding area and really hope that we will be able to come back again and if we do then we will want to stay here!
The house is absolutely lovely, you have created a beautiful place which feels very special. You have obviously put so much thought into the design and the décor and it feels like a home rather than a holiday let. The welcome coffee, wine, tea bags etc., were definitely welcome and the vase of flowers a lovely touch.
Tracy and Eric (Essex)
Pat and Steve said........8th June 2017
What a wonderful surprise we got when we opened the front door of The Grey Goose. The attention to detail is superb. Bamburgh is definitely one of our favourite holiday spots and Howick Gardens were outstanding, even in the rain.
Pat and Steve (Tottington)
Elaine and Richard said........20th May 2017
Suffice to say - we booked restaurants for all three nights of our stay.
Having eaten out for the first night, we cancelled the next two nights, preferring to stay 'at home!'
A lovely little house which leaves great memories for us.
Elaine & Richard (Surrey)
Andrew S said.....1st May 2017
Had a lovely time. Great job on the house.
We will be back
Andrew (Newcastle)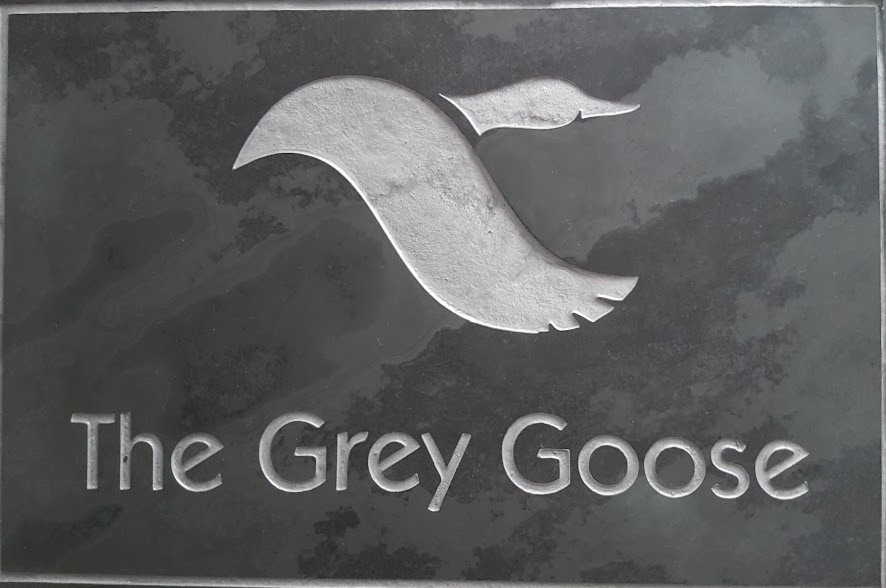 Gary and Ian said.........4th May 2018
Hi Nigel and Sue
Yet another wonderful stay here in wonderful Bamburgh. Our second stay here in The Grey Goose was yet again, fabulous and so, so comfortable. It was a pleasure to see you both again and thank you for the welcome gifts.
We will be sure to highly recommend your cottage to people. Lovely to be here for a whole week. we never tire of Bamburgh and look forward to our next visit as always.
All the best
Gary and Ian (Glasgow)
Sophie and Richard said.........13th April 2018
What a lovely place. The house is very comfy and close to everything.
Favourite places: Low Newton - The Ship
The Olde Ship - Seahouses
The Farne Islands
Cragside - What a wonderful place - allow a lot of time, it's worth it.
Sophie and Richard (Surrey)
Adrian and Sheila said.........17th November 2017
Dear Sue and Nigel,
What a wonderful weekend break we've had in a fantastic holiday cottage. You've thought of everything - what a splendid find!
A great start to Christmas - a lovely meal at the Castle pub; Berwick Concert Band at the castle and a relaxing evening through to 3 am!!
We'll be back. Very best wishes,
Adrian and Sheila (Newcastle)
Diane and David said.........3rd November 2017
Dear Sue and Nigel,
Had a wonderful week. Many thanks for the welcome gifts of wine & chocolates. Your cottage is like a home from home with great facilities. We would definitely recommend the cottage to family and friends.
Enjoyed the boat trip to the Farne Islands seeing lots of seals and their pups.
Many thanks.
Diane, David and George (Glasgow)
Emma and Jon said.........1st September 2017
Amazing place!! Absolutely love the house. Felt like home! Every little detail has been thought of. Thank you for the welcome wine and chocs. (although the kids pinched the chocs.)!! Bamburgh and the surrounding areas are beautiful. Cannot believe we have this in England and I didn't know!!
Thanks again.
Emma, Jon, Matt, and Jacob (Sheffield)
Janet and Gavin said.........11th August 2017
Thank you for a super week staying in your fantastic holiday cottage. We have holidayed in Bamburgh several times before but The Grey Goose is definitely the cleanest, most comfortable and well equipped property we have stayed in. You seem to have thought of everything. Thank you.
The weather has been much better than we anticipated so have spent most of our week on the beach. (Some great waves yesterday for bodyboarding)!! – with of course plenty of trips to Wyndenwell for ice cream and coffee. We'd thoroughly recommend the Ferrero Roche Ice Cream – though of course it's important to try several flavours while you are visiting.
Other recommendations:
Alnwick Garden
Alnwick Castle
Walk from Dunstanburgh to Craster
Thank you again
Janet, Gavin and Sophie (East Yorkshire)
Sue and Adrian said......... 4th August 2017
What a lovely house. There is everything we could possibly want (and a bit more). Thank you for the addition of the hairdryer too.
Our first time staying in Bamburgh and it has been gorgeous. Changeable weather but who cares when you have got boots and waterproofs? Lots to see and do each day! A fantastic coastline and beaches, but the best has to be Holy Island. We really loved the walk through the dunes. We counted 28 different wild flowers as we walked and we'll look forward to a return visit to see the restored castle when the scaffolding is peeled away.
Thanks again
Sue, Adrian, Archie and Eleanor (Nottingham)
Clare and Gerard said...........21st July 2017
Thank you for letting us stay in your comfy and beautiful house – attention to detail superb. We really enjoyed our first visit to Northumberland. Excellent weather this week so good for exploring.
We stayed mainly on the beautiful coast, walking to Seahouses and back where we got sunburned!! And Craster, Dunstanburgh, Low Newton, Embleton and bus back to Craster. Howick Gardens were also beautiful. Best ice cream award goes to Doddington Dairies and the shop opposite the NT shop in Seahouses is generous.
Look forward to a return visit.
Clare and Gerard (Basel, Switzerland)
Kate and Ian said........7th July 2017
Thank you for a wonderful week! Your house is absolutely amazing, there is everything we could possibly want and the refurbishment you have done is top class. It was also a huge hit with Elijah (21/2) who loved his new big high chair, cot and baby bath!
We are delighted that we decided to stay here, not only for the house but the ideal location in Bamburgh and the surrounding area.
We loved it and we will be back!!
Kate, Ian and Elijah (Leeds)
Jackie and Steve said.........16th June 2017
Have had a lovely holiday. Spent a lot of time walking on Bamburgh beach. The Grey Goose is a fantastic place to stay and we couldn't ask for anything more. You did a good job. We will be back soon. Thank you.
Jackie and Steve (Crawcrook)
Robert and Lesley said.........2nd June 2017
Thank you for a comfortable and relaxing break. Your holiday home is fantastic and so well equipped you couldn't ask for more. The boys say thank you very much for the loan of the bike helmet and the use of your shed. We will be back and will definitely recommend you to everyone.
Robert, Lesley, Danny and Cameron (Kendal)
Nan and Lee said.........26th May 2017
We have had a wonderful stay in this lovely cottage. Location excellent, so peaceful and quiet, neighbours friendly. Would definitely recommend to family and friends. Love the attention to detail, everything we could wish for. Hope to return.
Nan and Lee (Lincolnshire)
Debbie W said......15th May 2017
Greetings from Holland.
This is really a superb house. It is beautiful and really comfortable. The extras are lovely....... from the teabags to the bottle of wine!! Many thanks
Debbie, Daniel, Nikki and Jorik (Den Hague)
Carol M said......18th April 2017
Comfortable, airy, very well furnished & decorated accommodation very close to village centre.
Very good accommodation which is well equipped and tastefully decorated. The Grey Goose is situated in a quiet residential street only a minute or two's walk from local shops, pubs and tea rooms. Bamburgh Castle and the famous beach is a 5-10 minute walk. There is off road parking with a small garden with decking to the back. Many locals make use of traffic cones to reserve their own parking spaces so the gravelled 'drive' is a bonus. If you reverse in, the boot is a few feet from the patio doors. Excellent for families of 4 - two adults & 2 kids - or couples. The light main bedroom boasts a very comfortable Super King sized bed. You can see both the sea (just) and the Castle (a side 'slice') from the master bedroom - mainly views of well kept back gardens and a small herd of cows with calves. Under stair storage was handy for bags and walking shoes as well as the Henry Hoover. A Dishwasher, washer-dryer, freezer and fridge beautifully fit into the well designed kitchen. A modern shower room with loo is on the first floor with a second loo in a separate tiny room beside it. This was our second Easter weekend in Northumberland having stayed in Beadnell. This was by far the better holiday for the location, accommodation and access to amenities. Families with younger children can make use of the Castle Green for football kicking or rugby ball throwing. We stayed for 4 nights & visited Alnwick Castle, Craster, Newton by the Sea, Seahouses for the one armed bandits & the Billy Shiels Farne Island boat trip. A lovely, small but very tastefully modernised 1950's house which we easily made our home for the extended weekend.
more...
less...